Shower Leak Repair: How to Find a Leak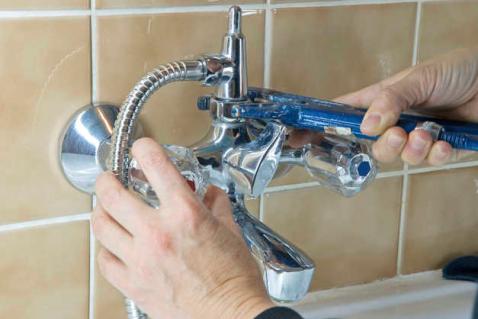 There are places in a shower where a leak may be present: the shower head or the piping. Obviously, one type of leak is easier to find than the other. At Quick Step Plumbing & Drain Service, we know it's important to find the source of any leak fast to prevent water damage. Here are some signs homeowners can look for to spot a leak and know it's time to call for shower leak repair in Rancho Santa Margarita, CA:
Loose tiles
Vinyl flooring that peels
Water stains on the wall or ceiling
Mold on the floor or wall
Pooling in the shower basin
Visible clues like a leaking shower head or water leaking from basin
Repair Options for Shower Leaks
Many times, we'll get calls from concerned homeowners who want answers about their leaky showers over the phone. Unfortunately, it's hard to do this because there are different reasons that showers leak. A licensed and bonded plumber needs to visually inspect the area to determine exactly where the leak is originating. Knowing this information will help a plumber discuss repair options with you. Below are a few examples of common repairs:
Faucet repair: You may need to replace a seal or washer to stop a leaky shower. Luckily, this is an inexpensive repair that can be done quickly and cheaply.
Cracked shower enclosure: This repair can be more extensive and is common in older homes. If the shower enclosure is cracked or tile has come loose, it needs to be replaced or repaired soon. The longer you wait the more likely it is that water will seep into the drywall and studs causing major water restoration.
Drain repair: A clogged shower drain can cause standing water and flooding. Although it can be rather alarming to see water flowing over into your bathroom, this is a relatively easy fix. All you need is hydro jet drain cleaning to clear the clog.
Call Your Local Rancho Santa Margarita Plumber Today!
Don't wait to call for shower leak repair in Rancho Santa Margarita. It's important to get to the source of the problem as quickly as possible. At Quick Step Plumbing & Drain Service, we offer emergency shower repair and other drain and rooter service. Call today to schedule a free estimate with a licensed, bonded, and insured plumber near you.